At Aeroklas Fitment Centres, we offer a nationwide warranty on everything we do, everything we fit, and everything we sell. That's our first-class servicing, all our repairs, and all of the high-quality parts we sell, backed by a warranty for your peace of mind.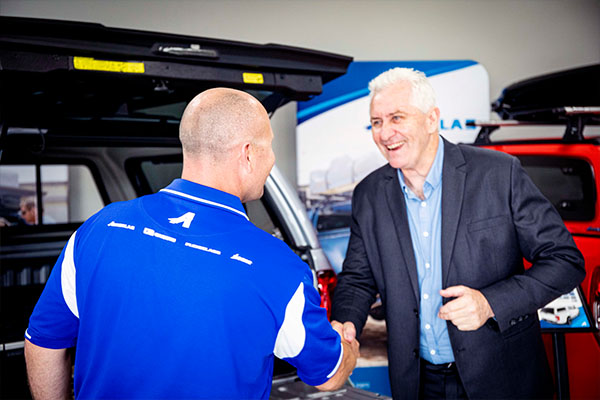 1. For the purpose of this warranty policy, the following definitions apply:
a. Aeroklas means Aeroklas Australia Pty Ltd (ABN 66 149 775 628) of 17 Johnstone Road, Brendale Queensland 4500, together with any related entities that sell Aeroklas Product of which this warranty is given by;
b. Aeroklas Product means Aeroklas product that Aeroklas manufactures or supplies;
c. Aeroklas Store and Aeroklas Fitment Centres are a Corporate or Distributor Store which has been authorised by Aeroklas to sell and/or fit Aeroklas Products;
d. Non-branded Product means product offered for sale by an Aeroklas Store or Aeroklas Fitment Centre that is not branded Aeroklas;
e. Product Information means information about the Aeroklas Product which may be contained in: documents provided with the Aeroklas Product i.e. fitting/installation instructions, application guide, owner's manual, operating/safety guidelines, labels attached to a product, manufacturers manual or maintenance guidelines.
f. Warranty Period is the period that this warranty applies against defects for an Aeroklas Product, that is set out in paragraph 2;
2. Aeroklas warrants your Aeroklas Product to be free from defects in materials and workmanship for a period of 3 years or 100,000km (whichever comes first) from the date of purchase, unless:
a. a different Warranty Period is set out in the warranty table;
b. the Aeroklas Product is used for commercial use in which case the Warranty Period is the lesser of 1 year 20,000km or one third of the period or distance specified in the warranty table, from the date of purchase.
3. It is a condition of the warranty and to be entitled to a warranty claim, that the customer:
a. has the Aeroklas Product correctly installed by a fitter authorised by Aeroklas, or an Aeroklas Store, or an Aeroklas Fitment Centre, in accordance with the Product Information;
b. makes a claim within the Warranty Period;
c. provides proof of purchase of the Aeroklas Product;
d. has complied with the warranty maintenance requirements set out in this warranty.
4. This Warranty will no longer apply where:
a. the Aeroklas Product is outside of the Warranty Period;
b. Aeroklas considers (acting reasonably) there has been damage to the Aeroklas Product as a result of either an accident or has been damaged by a third-party product.
c. the Aeroklas Product has been misused and unusual, improper or negligent use of the product has occurred;
d. the Aeroklas Product has been incorrectly installed;
e. the Aeroklas Product has been modified or adapted in any way without Aeroklas's express written permission or authority;
f. the Aeroklas Product has been loaded with weight in excess of the product information;
g. there have been alterations to the vehicle from the vehicle manufacturer's specifications, instructions or manual;
h. the Aeroklas Product has been used for racing or competition use.
i. the Aeroklas Product Information has not been followed.
5. The procedure for making a Warranty Claim is:
a. return the product you consider to be defective to the Aeroklas Store or Aeroklas Fitment Centre that it was purchased from for inspection;
b. alternatively, go to your nearest Aeroklas Store or Aeroklas Fitment Centre (details can be found at www.aeroklas.com.au or contact Aeroklas Customer Service on 07 3865 9999, or email Aeroklas at [email protected]);
c. ensure that you bring your proof of purchase for the Aeroklas Product to the Aeroklas Store or Aeroklas Fitment Centre;
d. the Aeroklas Product will be reviewed, and you will be advised if the conditions of this warranty have been met.
6. Aeroklas will not be liable to you or any third party in respect of any claim for injury, death, loss or damage to any person or property caused or arising out of the use of products sold by us, except to the extent that liability is imposed upon us by any statutory provisions that cannot be excluded.
7. Whilst Aeroklas ensures all our products comply with relevant mandatory product safety standards, it is the sole responsibility of the purchaser to ensure its purchased product is suitable for use under the relevant law and regulations in their respective jurisdictions.
8. When a customer's warranty claim is accepted for defects in material or workmanship, Aeroklas (at its own discretion) will provide a refund, repair, or replacement.
9. Any expenses incurred in making or pursuing a claim under the warranty (including the costs of delivering the product considered to be defective to Aeroklas) is at the customer's own expense.
10. All Non-branded Products offered for sale by an Aeroklas Store or Aeroklas Fitment Centre and not expressly referenced in the warranty table do not carry an Aeroklas warranty however, the product may be covered by that supplier's warranty.
11. For claims under warranty for products purchased outside of Australia, Aeroklas will comply with any statutory provisions that cannot be excluded by agreement, in the country of purchase.
Product Specific Warranties
Aeroklas Canopy: 3 years (canopy shell and paint), 1 year (all other parts, excluding glass)
Aeroklas Roller Shutter: 2 years
Aeroklas Drawer System: 1 year
Aeroklas Canopy Spoiler: 1 year
Aeroklas Dust Seal Kit: 1 year
Aeroklas Side Steps: 1 year
Australian Consumer Law
This Aeroklas Warranty is in addition to any rights which you may have under the Australian Consumer Law in the Competition and Consumer Act 2010 which cannot be excluded by agreement. Our goods come with guarantees that cannot be excluded under the Australian Consumer Law. You are entitled to a replacement or refund for a major failure and compensation for any other reasonably foreseeable loss or damage. You are also entitled to have the goods repaired or replaced if the goods fail to be of acceptable quality and the failure does not amount to a major failure.
Regards,
Aeroklas Quality Team